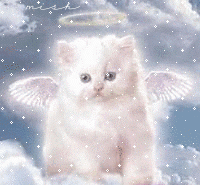 Look at this cute picture I stumbled on over at "Glitter Graphics" ...
thank you Burg for letting me know about GG's. Funny thing, this is what Petie looked like before he got his "lion shave." I sure miss my little old man...

Sorry I've been missing in action for a few days. I haven't had a chance to go run around blogging ... I feel bad!! I will try tonight ... if I don't fall asleep! Last night I was watching "Dancing with the Stars" with Casey ... I love that show!!!! I want those girls figures, I am so envious!!!! Maybe if I worked out 12 hours a day and quit eating all day long I could look like them!!

We're getting ready to start building our little cabin in Utah. We're sort of being forced to get started or we'll lose our water rights...oh well, what can ya do? It's about 8 years sooner than we planned. We're excited and nervous all at the same time. So, I've been busy on the phone w/ all kinds of people trying to get the ball rolling. Once we get the cabin started ("showing intent") ... then we can apply for another extension and spend the next five years finishing it up ourselves. Mike had wanted to build all by himself, so he's kind of bummed.

I went to a neighborhood meeting last night w/ several city officials ... I attended b/c I'm trying to get speed humps on my street where people insist on driving 90 mph. What is so sickening is that you have to have 800 speeders to qualify for humps... and "we only have around 500 speeders." Holy Cow!
It only takes one speeding car to hit and kill a child. I've been trying for two years now... I was able to get most everyone on my street to sign a petition for speed humps. The city simply doesn't listen. Unfortunately, a tragedy needs to happen first. Isn't that usually how it works?????
I lost my 11 year old brother Danny, to an impaired speeding driver when I was 14 years old ...he was on a street w/ a crossing guard to boot .... the driver was a mother of three who was on Valium....
so I have this "thing" about speeders and drivers who drink/take drugs/use cell phones in their hands when they drive a motor vehicle. We'll see if they come up w/ something...
but the truth of the matter is, if people would just obey the 25 mph speed zone in a residential neighborhood ... there would be no problem. So frustrating.

Anyhoo .... Have a great day/night/week/weekend!!!